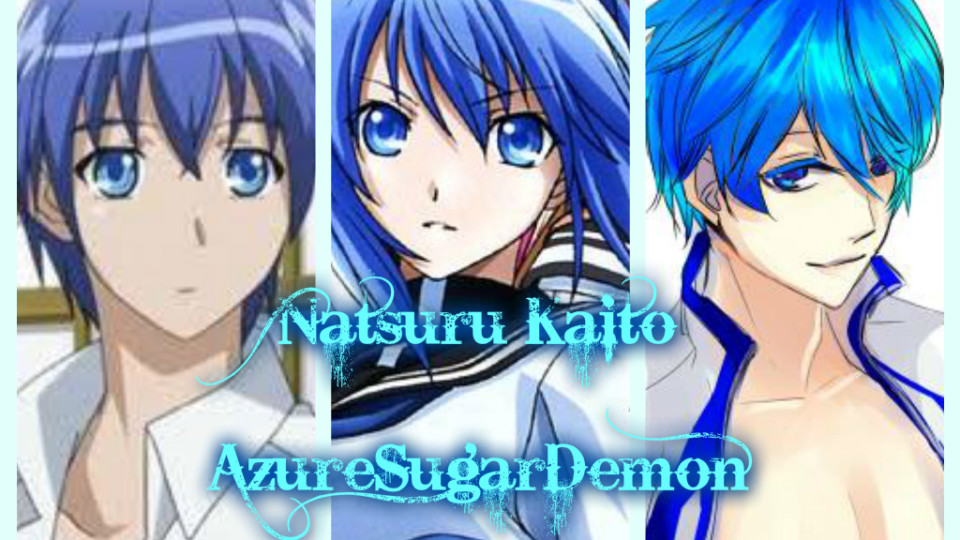 Natsuru Kaito AzureSugarDemon Senou-Saotome
@sexyblueabyss
•
Joined August 2016
Forum Replies Created
Member

August 6, 2021 at 5:56 pm

*Practicing his next routine and song list on the outdoor stage while the fashion show continues on two small stages on the sides. He helped some of the nervous models relax when he was on his break by singing to them and offering them encouraging words.*

Member

February 22, 2021 at 3:04 pm

Hello minna! Welcome.to Funlandia!!


Member

August 2, 2020 at 9:45 pm

*Waiting in the VIP area of the lounge to go over some business with Kintoki. He insisted on having cake from the SugarSweet Bakery so his crew brought it for him. * @goldsugardemonkin

Member

August 2, 2020 at 9:20 pm

// This one is simple. Staff are members of the GrandSugarClan and sometimes they'll hire allies to help run the nightclub. //

Member

February 14, 2020 at 1:06 pm

Happy Valentine's Day minna!

Member

December 31, 2019 at 8:45 am

Takeru: Loki! Eres como un niño travieso! Tu impaciencia es contagiosa. Mejor callate! Tch! *Comenza a dar pasos de un lado de a sala al otro lado de la sala y despues vuelve al centro y fija su mirada en Thoth-sama.*

Ha pasado mucho tiempo desde que Helena comenzo la destruccion. Que haremos? No me agrada nada esta situación. Debe estar surfriendo! Y sabes que ella sufre por los demas tambien. Soy un dios y me siento inútil. No he podido calmar los mares. Los mares de las playas se tiñen de los colores de gris y negro. Como es que ella puede obstruir mis poderes sobre los mares de esa manera?

Member

December 13, 2019 at 11:54 pm

*smiles* Guess I will be providing some of the entertainment!

Member

December 13, 2019 at 11:48 pm

Have a Happy and Cozy Christmas and a Happy and Healthy New Year!

Member

December 13, 2019 at 11:41 pm

*Floating within the spaceship, he also has a worried expression on his face.* Soji brother, I hate to say this but I know you can sense it as well as I do. This event has something to do with sis Helena. *He looks at Tatsuma.* Let's search for a way around the space patrol. We don't want to rebel nor do we want to create a riot and bring people into danger with us. Let's see if there is some area they aren't watching.

Member

May 28, 2019 at 5:06 am

The weather is definitely getting better!

Member

February 21, 2019 at 6:13 am

Takeru: *his arms crossed and nodding negatively from side to side.* I told you not to bother here with that. *he looks around the room.* She wont just drop the existence she fought so long for, just to become a lonely goddess!

Member

February 20, 2019 at 7:48 pm

Name: Takeru Alignak Totsuka
Nickname: Take-Take, Rampaging God and Thoth sama calls him Failure.
Birthdate: March 20 (Pisces)
Race: Japanese God of Sea and Storms
Height: 165cm / Weight 50kg
Bloodtype: B
Eyes: Cinnamon / Hair: Blue
Brother: Tsuki-Tuski

Guardian Of Divinity at Ordo Templi Mysterium Dextrose and Hereditary Knight at Royal Order of SweetSugarSeraphim

Japanese God of the Sea and Storms. Responsible for awaking of the world.
Has pledged to be a Hereditary Knight for Helena SweetSeraphimSugarDemon Sakata.

Hobbies: Enjoys collecting seashells, poetry
Special Skills: Swordsmanship
Favorite Food: Soba Noodles and anything Lady Helena makes at the SugarSweetBakery

Personality: Smart but short-tempered. Very brash and often gets into fights. He's older than his brother Tsukito. He's very protective of those he cares about and he thinks animals are cute.

Member

December 16, 2018 at 9:01 pm

Wishing a Happy Birthday to my long gone auntie Kyoko, to my beloved nieces and nephews and all those born in the month of December 🙂 Happy Birthday!

Member

December 16, 2018 at 8:59 pm

*He was putting gifts on a table for the regular customers of the bakery. He would turn and smile as he received the Christmas cakes and treats that were available.* Domo arigato! And Happy Holidays to all!