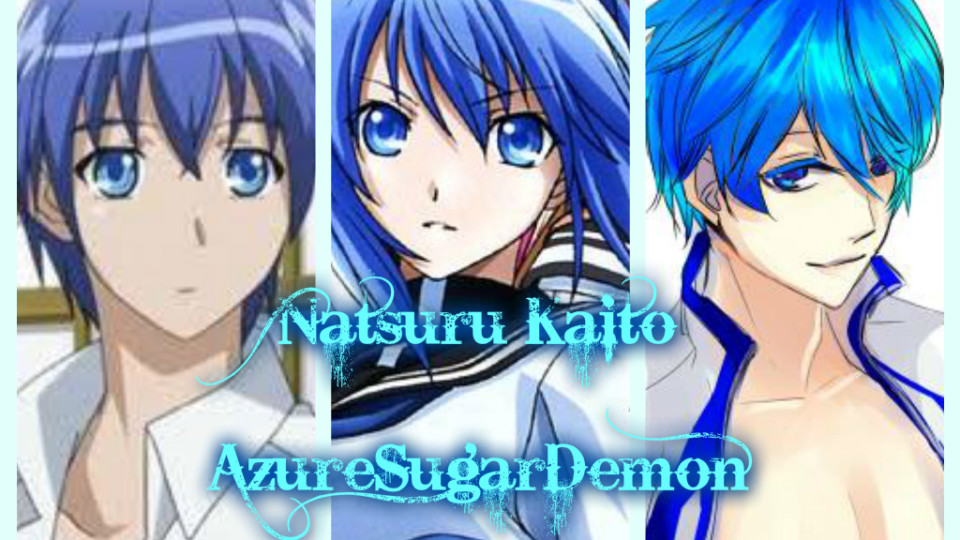 Natsuru Kaito AzureSugarDemon Senou-Saotome
The Basics
| | |
| --- | --- |
| Display Name | Natsuru Kaito AzureSugarDemon Senou-Saotome |
| Username | sexyblueabyss |
My Information
Biography

Name: Natsuru Kaito Senou-Saotome
Nickname: Natsu-Kaito
Member of the SugarDemon family of the GrandSugarClan
ClanName: AzureSugarDemon
Birthdate: July 28th
Father: Ranma Shukumaru Saotome
Mother: Akane Suzuku Tendo de Saotome
Siblings: Helena, Isao, Tosshi, Toshizo, Shuhei, and Alto. Also considers Soji his brother because they are so close.

Occupation: Singer/Performer, Blue Kämpfer, Host, Shinsengumi Officer.
Note: Due to his Blue Kämpfer abilities, he sometimes turns into a female.

Ability: Zauber type with power based on fire. Excellent vocal skills and enchanting personality.

Personality: Independent, he's not afraid to fight for what he believes in. He's charismatic, kind, socially outgoing and loyal.

Alt Character:
Name: Takeru Alignak Totsuka (Take Take Sato.no.Kami)
Member of the Sato.no.Kami branch. Guardian Of Divinity at Ordo Templi Mysterium Dextrose and Hereditary Knight at Royal Order of SweetSugarSeraphim. Japanese God of Sea and Storms. Also older brother of Tsuki-Tsuki.