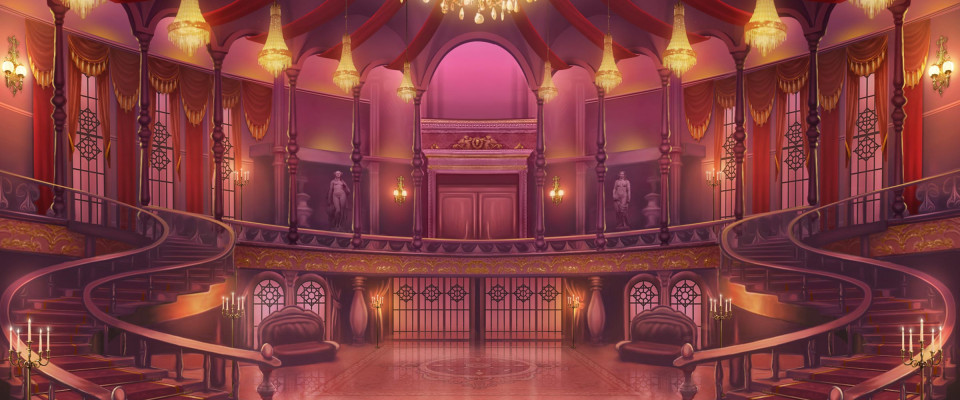 Foxflame Ballroom
Welcome to FoxFlame Ballroom! This is an elegant ballroom for large formal parties and ballroom events.
The ballroom is run by several members of the GSC and some of our trusted allies. It's open to the public and sometimes hosts holiday events.
The ballroom is beautifully adorned with crystal chandelier and a creamy color pallete that is sure to compliment most color schemes our visitors choose for their preferred decor during semi-private events. There's ample room for a sit-down gourmet meal, for a dance floor and for staging bridal parties which fits a bridal party head table.
Individuals at the ballroom's events receive complimentary cocktails and hors d'oeuvres. We cater our desserts from SugarSweetBakery and our gourmet food is prepared by Satō no Kokoro Restaurant's top chefs.
The music played at the ballroom ranges from classical to more modern swing/jazz and we make sure there's plenty of romantic music for couples who want to gaze into each other's eyes peacefully while dancing.
We welcome you all!
(PS: Please note we reserve the right to remove anyone who's not rping according to the theme of the group or if you disrupt the ballroom in any way.)
Rules:
+Please rp as if you are in a ballroom
++ Please don't spam this group.
+++Try to be nice to others. (No attacks at the ballroom, this will get you kicked out).
++++And most importantly…All new arrivals and new rp characters entering our premises, we ask that you first join Skyrie.net group and Skyrie Sandbox group so that you understand how to get around Skyrie and what's expected. Very much appreciated!