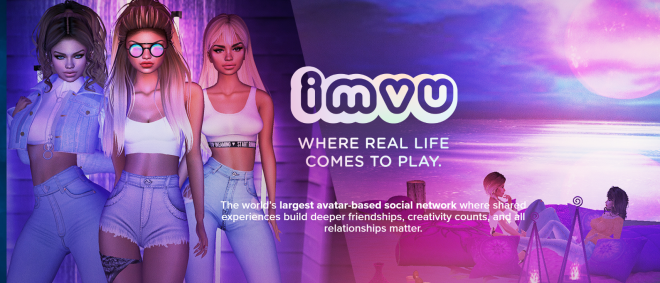 IMVU Lounge
For Fans and Users of IMVU.
**Please, we prefer mainly people with avatars on IMVU in here. Domo arigato!
New IMVU Avatars can create and change up your Look. Shop for new looks, share rooms, get married, etc. Get 4000 Credits Free, Join IMVU® Now! Customize your Avatar. Create an Avatar. Connect & Chat in 3D. Join Millions of others.
https://secure.imvu.com/welcome/login/
Basic Info and Rules for this Group:
Please be respectful of each other.
Feel free to post IMVU updates, news, changes.
You may rp with your Avatar here.
You may post your IMVU photos here. (please, no nudes).
New group members remember to please join Skyrie.net group and Skyrie Sandbox group first, so that you understand how to get around Skyrie. Thank you!
Anything we deem irrelevant, will be deleted without warning.