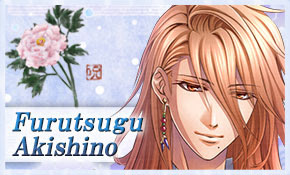 The Basics
| | |
| --- | --- |
| Display Name | Akishino Furutsugu |
| Date of Birth | September 29, 1991 |
My Information
Gender

Male

Country

Colombia

Location

Skyrie Universe

Interested In

New Friends, Roleplaying

Biography

Name: Akishino Furutsugu

Nickname: Shintsu [by trusted friends only]

Occupation
Chief of Security
Exorcist

Height
175.3cm/5'9″

Weight
62kg/137lbs

Family
Yoshikage Akishino (foster father) 

Furutsugu Akishino is the chief of security, an exorcist, and a potential romance option in Scarlet Fate, Scarlet Fate+, and Scarlet Fate II.

He often utilizes his suave personality and good looks to manipulate others, particularly women, in order to gain information from them. His foster father is Yoshikage Akishino.